Touring Exhibitions
We offer, with the support of the DRAC PACA, two traveling exhibitions, intended to integrate cultural and social places (libraries, bookstores, social centers, schools, etc.).
• Tamponville by Aurélien Débat: a true graphic alphabet to assemble, combine, superimpose in order to build real or imaginary cities. This participatory exhibition took shape in 2012 during a residency at the Nicole Crême studio, followed by an installation at Studio Fotokino. It has since traveled to media libraries, schools, museums, libraries, etc.
• Images-Valises is a gateway to the world of children's books. Images-Valises is composed of a Risography exhibition, and a series of workshops carried out with illustrators. In order to reflect the bounty of contemporary graphic arts, we launch a call for projects each year to enrich the Images-Valises project.
For any request or further information, please contact us!
"Images-valises" workshop with Lisa Laubreaux, 2019
Bettina Henni, Exhibition-workshop "Elementary particles," Gréoux media library, 2012
Exhibition-workshop "Tamponville," Aurélien Débat
Exhibition-workshop "Images-valises" with Sarah Cheveau, Café Populaire de Lauris, 2019
"Images-valises" exhibition, Miramas art library, 2017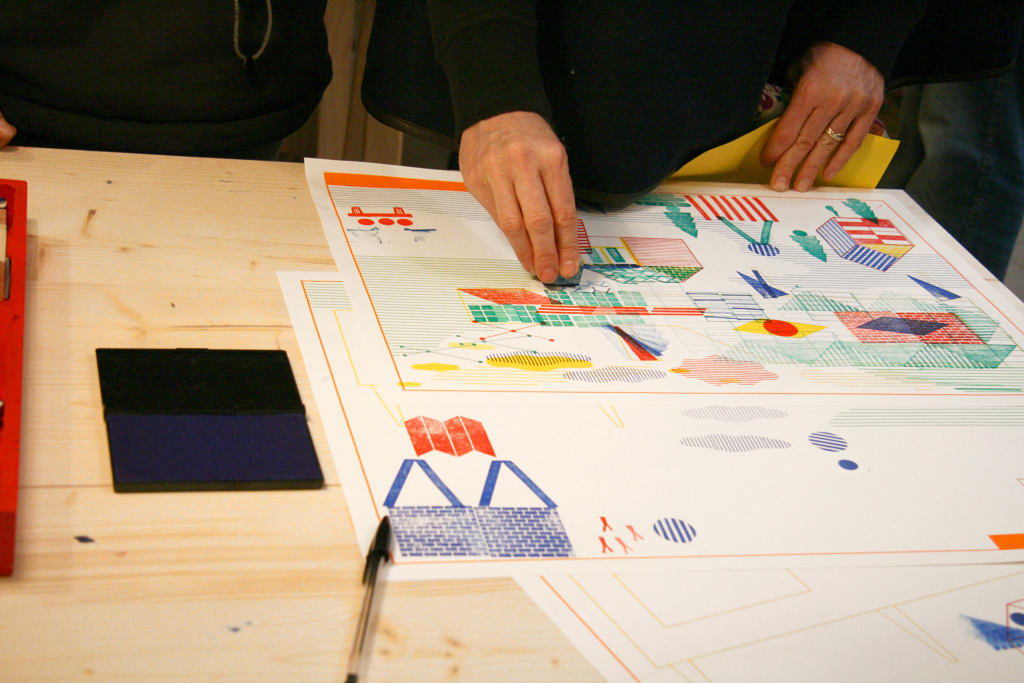 Exhibition-workshop "Tamponville," Aurélien Débat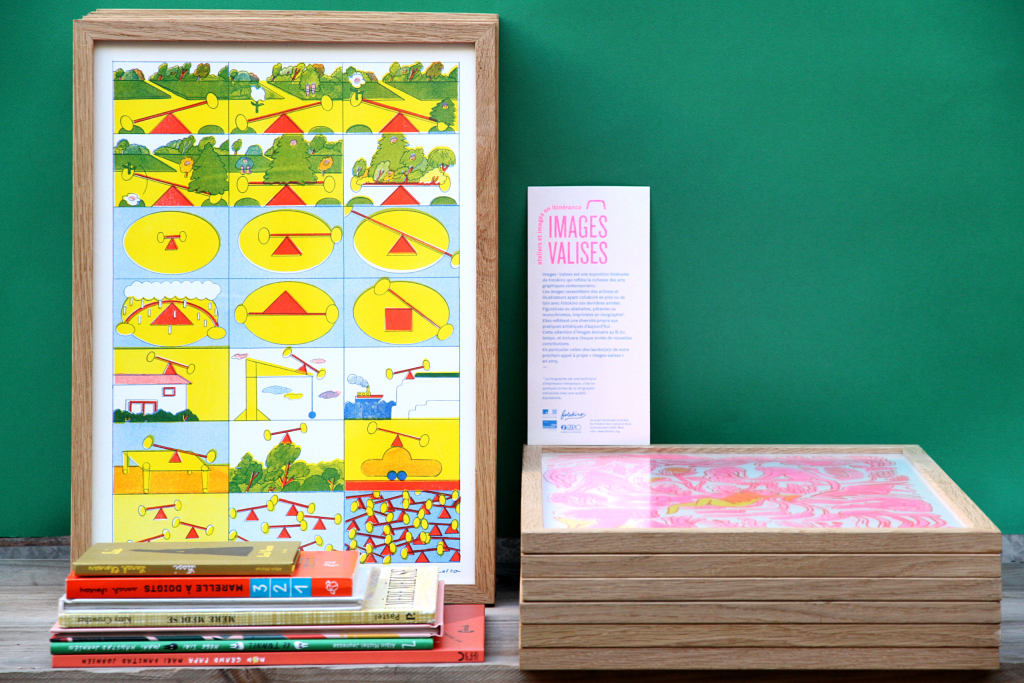 "Images-valises" exhibition
Exhibition-workshop "Tamponville," Aurélien Débat
"Tamponville," Aurélien Débat
Workshop with Géraldine Alibeu, 2016
Images and Fanny Dreyer's notebook for "Images-valises"
Animated puppet workshop with Fanny Dreyer, Studio Fotokino, 2016
The Estampette
Residency program
Since 2010, we have welcomed artists in residency in the framework of various projects: writing support, mediation and itinerant residency, creation of children's books, and so forth.
Currently, we hosted artists and illustrators in Marseilles twice a year:
• First, during Summer break, the Studio is transformed into a laboratory. An opportunity for artists to create pieces on-site and to enjoy a spacious workspace with plenty of natural light. We also offer this type of arrangement during the year, for shorter periods of time, as part of certain exhibitions.
• Secondly, with the help of the DRAC PACA and in partnership with La Marelle, an author/illustrator working on children books is hosted in Marseilles every Autumn. For a period of 2 to 4 months, he/she will be able to develop a book project, while offering some mediation actions around his/her work. This system is the subject of a call for projects launched each Spring.
Artists who have been in residency since 2010: Amélie Jackowski, Gethan & Myles, Roméo Julien, Laurence Lagier, Julie Escoriza, Caroline Gamon, Gusto (Fanny Garcia and Tristan Etienne), Dans le ciel tout va bien, Tom Henni, Catherine Chardonnay, Ramona Badescu, Charline Collette, Alaric Garnier and Léna Araguas.
Workshop with Amélie Jackowski, 2014
Alaric Garnier and Léna Araguas' residency, 2019
Laurence Lagier's residency, 2017
The GUsto's exhibition at the Lièvre de mars bookstore, 2013
Meeting with Julie Escoriza and Nina Cosco, Studio Fotokino, 2017
Roméo Julien's residency, 2018
Workshop with Julie Escoriza, 2017
Presentation of gethan&myles' residency, 2019
The Estampette
Developed in 2018 with Nicole Crême's silkscreen printers, the Estampette is a mobile printing unit that can be rolled out in public spaces and offers initiation workshops to various printmaking techniques. Two wheeled suitcases packed with the required supplies convert into a small printing station that can be taken to plazas, parks, fields or even beaches! On the agenda: screen printing, monotype, stencil, engraving, stamp… together with our staff and fellow artists.
Once unfolded, we can welcome people to share creative moments with us: open-access workshops or by reservation, live printing, artists' interventions…
If you'd like to arrange a workshop or an event with the Estampette, please feel free to contact us!
Belsunce, 2018
Eyguières, 2018
L'Estaque, 2019
Foresta Parc, with the Bureau des Guides, 2018
Saint-Savournin, with the Bureau des Guides, 2018
Roquevaire, with the Bureau des Guides, 2018
Théâtre de l'Œuvre, 2018
Salon-de-Provence, with MP2018, 2018
Parc de la Villette, Paris, with the Pompidou Centre, 2018
Roquevaire, 2018
Saint-Savournin, with the Bureau des Guides, 2018
Eyguières, 2018